ALTUS LSA Commercial and Manufacturing SA (ALTUS)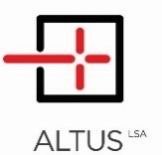 ALTUS LSA is a technology integrator providing turnkey solutions in the field of Unmanned Systems and innovative technology programs with worldwide service capabilities.
The Company's experience and expertise extends to: land & maritime border surveillance, intelligence gathering, airborne ISR, environmental monitoring, natural disaster management, GIS applications, protection of critical infrastructure, SAR missions, and aerial target drone applications.
Moreover, since mid of 2017, ALTUS LSA has been approved as a UAS training academy by Hellenic Civil Aviation Authority, with registration number EL-UAS-TC-3 (www.dronepilot.gr )
ALTUS LSA complies with the most recent EASA regulations for unmanned aircraft operation, crew training and manufacturing, and operates under approved HCAA Specific Category Operation Authorization.