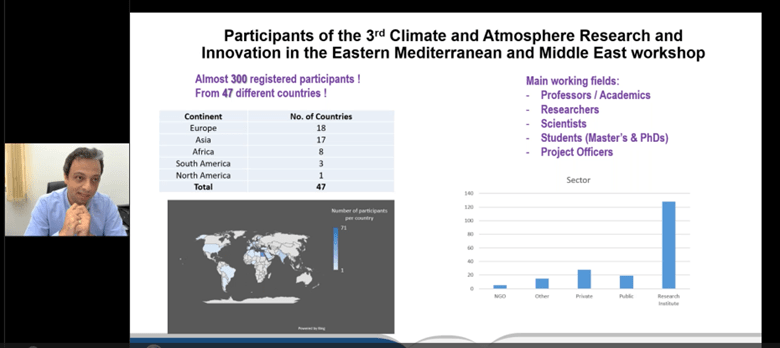 On Tuesday, 7th of November 2023, the 3rd Annual Online Workshop on Climate and Atmosphere Research and Innovation in the Eastern Mediterranean & Middle East, organised by CARE-C of the Cyprus Institute, was successfully concluded.
This one-day online event brought together the international scientific community in order to discuss the latest innovations and exchange knowledge on the science of climate change and air pollution, as well as to highlight related challenges, impacts and potential solutions for the EMME region. The workshop also provided a great opportunity for networking and enhancing regional collaboration and national capacities for addressing the climate crisis.
Prof Charbel Afif, a professor at Saint Joseph University in Lebanon and an adjunct professor at the Cyprus Institute gave the introductory speech welcoming all the participants at the workshop. His opening speech was followed by 22 oral (including 3 keynote speakers) and 34 VPICO presentations delivered by representatives of universities, research institutions and private companies, actively engaged in the topics of air pollution and research innovations related on climate change.
More than 340 scientists, researchers, students and industry professionals in the area of research & innovation on climate change and air pollution in the EMME region, registered and participated at the workshop, from over 50 countries.
The workshop was organized within the framework of the H2020 Teaming Project EMME-CARE (emme-care.cyi.ac.cy), and the Horizon Europe project Edu4Climate (edu4climate.cyi.ac.cy). The workshop organization was led by CARE-C, The Cyprus Institute, with the contribution of the EMME-CARE Advanced Partners and the Edu4Climate Consortium partners.
For more information about the outcomes of the workshop can be found in the link below: